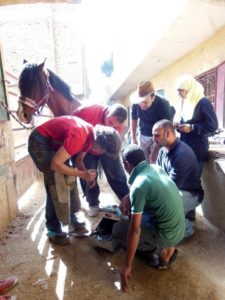 My goal as a Farrier and Veterinarian is to make the principles of farriery available to all horse people in an easy to understand and accessible form. By doing this I intend to improve the overall standards of farriery for the benefit of horses, horse-owners, farriers and vets.
Thank you for visiting,
Judith L. Mulholland
  I performed a wide variety of equine work including mustering, droving, clipping, yearling preparation, stud work and racing before settling into farriery in my late 20's. I finished my apprenticeship at 33. Then, in my mid 30's, I decided to return to school and put everything into becoming a Veterinarian. I graduated 6 years later. Throughout this time I supported myself solely by farriery, and since graduation the mix of farriery and veterinary has been very rewarding.
The wide range of horses I have handled, the many jobs I've had and the places I've worked have enhanced my basic foundation of horse knowledge.
"The more I know, the more I know I don't know". I am learning every day.
My goal is to pass what I am learning on to you for the benefit of your horses. I am currently working in equine practice in Australia and maintain a small number of farriery clients in several states. I travel widely to teach or assist horse owners with farriery issues whenever I can. I hope that I can be of help to you.